Chamber News
August 21, 2017
Time to lace up those running/walking shoes for the 4th Annual Stuart Fire Department~ Stop, Drop and Run 5K on September 9th, 2017 . . . read more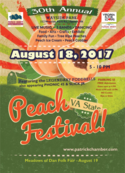 August 9, 2017
Come join the fun and all things peachy! Music with Slick Jr., Phonic 45 and The Foddrells. . . . read more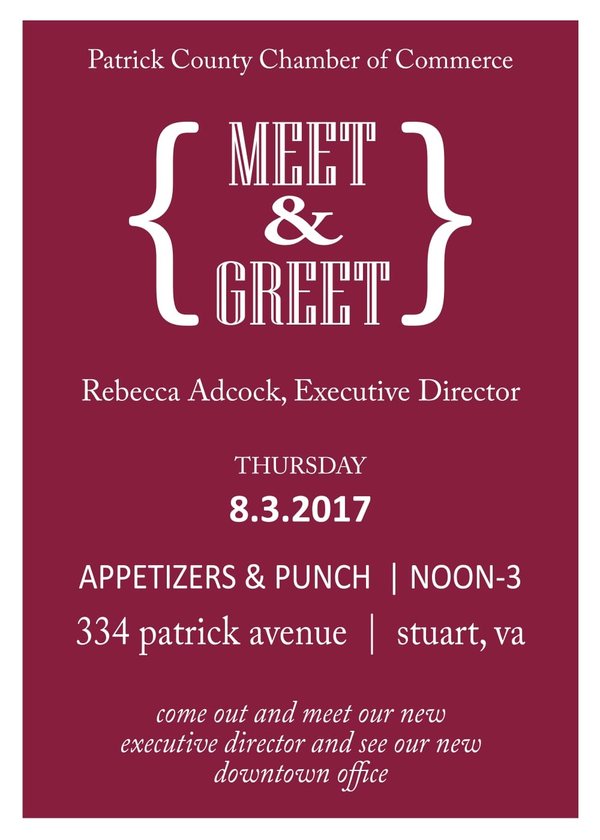 Come Meet the New Director
July 25, 2017
Stop by our Chamber office August 3rd starting at noon to meet our new Executive Director. We will have light refreshments and chances to win door prizes.
Upcoming Events
Aug 11-Nov 17: Stuart Farmers Market
Chestnut Street - Locally grown fruits and vegetables. Homemade baked items, fresh coffee and teas, along with great crafts. Come join the fun. Every Friday May through November 8 am to 12pm. Special events every Friday: blood pressure checks, master gardeners, kid art projects, cooking demos, knife sharpening and much more. We have a rotating schedule for the special events.
Aug 24: Native American Storytelling
Spencer Penn Center - Thursday, August 17 & 24, 6:30-8:30pm, Cost $20/member, $25/non-member Join us at Spencer Penn Centre as we welcome Renae Butterfly Morning Wagoner for a storytelling program.  Discover a new and unique way to uncover links in your family tree through Native American storytelling.  American Indian, Renae Butterfly Morning Wagoner, shares stories that will put a different spin on traditional genealogical research, all while enjoying the fun!  The stories will have you laughing, crying, and most importantly, thinking
Sep 9-10: Stop, Drop and Run 5K ~ Benefiting Stuart Volunteer Fire Deparment
DeHart Park - Please join Stuart Fire Department in participating in our 4th Annual Stop, Drop, & Run 5K Run/Walk with Memorial Stair Climb on Saturday, September 9, 2017. Our 4th Annual 5K will take place in beautiful Uptown Stuart starting at Stuart Fire Department's New Station, formerly the old Food Lion parking lot, at 8:00 A.M. As you may know, Stuart Fire Department's new station has recently been purchased, and we are eagerly awaiting the start for our many renovations to our new home. All race proceeds will go directly to our building fund and will be used to benefit our new station. Stuart Fire Department members have been working hard on building momentum for our new fire station, and we are hoping to continue this with our run through our beautiful Town. Our memorial stair climb is our unique twist, and is used to honor and remember those that were lost on September 11, 2001. The stair climb will take place in the County Administration Building, running from the first floor up to the third floor across the hall, and back down. The cost of the race is $20 if you register prior to August 25th. Race day registration will be available from 7:00-7:45 A.M. for $25.00. Preregistration packet pickup will be available on Friday, September 8, 2017, at the Town Office, 100 Patrick Avenue, Stuart, Virginia, and the morning of the race. Please visit our Facebook event: Stuart Fire Department's 4th Annual 5K – Stop, Drop, & Run, to find our registration forms and additional information. Registration forms are available at the Town Office, Chamber of Commerce and online. We are extremely excited to be able to continue this tradition, and are so thankful for the participants and the opportunity to see those in our community that we serve.
| | | |
| --- | --- | --- |
| | | Chamber Event |