Chamber News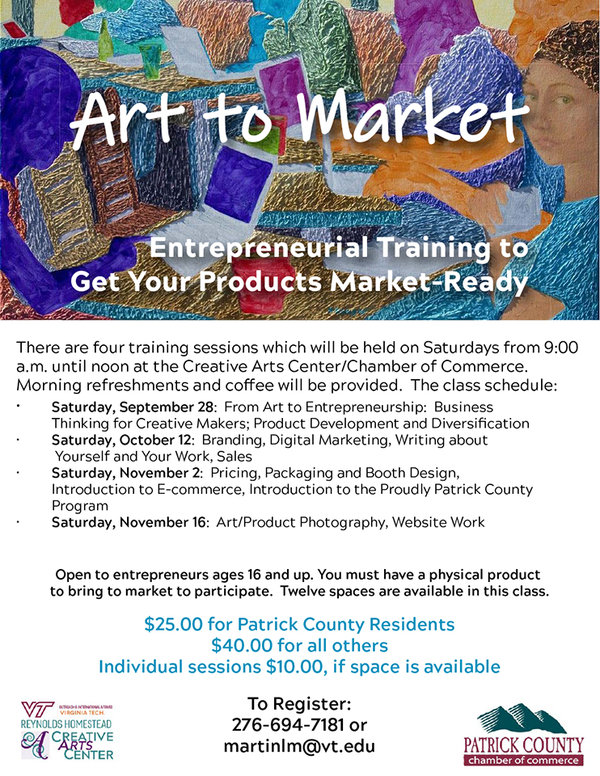 Art to Market Educational series
August 28, 2019

Art to Market: Small Business and Marketing Skills for Creative Makers

What Is It? Art to Market is a sequential set of entrepreneurship trainings that is comprised of four modules that can be taken as discrete units, although taking all sessions is the intention. The modules begin broadly with entrepreneurial mindset exercises, reframing what an art/craft business can be in an expansive way, including product development and diversification. This entrepreneurial education course includes one-on-one mentoring with instructor Jennifer Reis, and for those who complete the entire program, free inclusion on the Proudly Patrick County website and a space at the Pop-Up Market during Hometown Christmas. Regardless of what phase your business is currently in, you'll be ready for the holiday selling season.



When Is It? There are four sessions which will be held on Saturdays from 9:00 a.m. until noon. Morning refreshments and coffee will be provided. The schedule is as follows:

• Saturday, September 28: From Art to Entrepreneurship: Business Thinking for Creative Makers; Product Development and Diversification.

• Saturday, October 12: Branding, Digital Marketing, Writing about Yourself and Your Work, Sales

• Saturday, November 2: Pricing, Packaging and Booth Design, Introduction to Ecommerce, Introduction to the Proudly Patrick County Program

• Saturday, November 16: Art/Product Photography, Website Work



Who Can Participate? Anyone who is providing a unique product in Patrick County is eligible to attend. Each participant must have an e-mail address, access to a laptop computer (the Reynolds Homestead has some available for use during the sessions), and at least a basic comfort level with using a computer and the internet. Class is limited to 12.


Participants will also participate in surveys, interviews and photographs for research purposes. What Does It Cost? This program is $25.00 for all Patrick County participants ages 16 and up who register for the full course, and they will receive free listing on the Proudly Patrick County website and a free booth space at the Hometown Christmas Pop-Up Market. We are able to offer this at such a low cost thanks to the sponsorship of the Patrick County Chamber of Commerce, and the Reynolds Homestead. Anyone who would like to take an individual session may do so for $10.00, provided there is space available. Non-Patrick County residents may take the full course for $40.00, but will not be listed on the Proudly Patrick County website, nor be eligible to participate in the Pop-Up Market.

Who Is the Instructor? Jennifer A. Reis is a creative entrepreneur, artist, educator and gallery director who has over twenty-five years of experience in arts business, administration, and higher education. Currently Assistant Professor of Arts Administration and Entrepreneurship at UNC-Greensboro, her research and practice focuses on empowering creative entrepreneurs with the mindsets and skills to survive and thrive. She is a trained Facilitator for the AIR Institute of Berea College, Etsy's Craft Entrepreneurship Program, and a Master Facilitator for the Kauffman Foundation's FastTrac Program, and consults for community development, trade and cultural organizations including the Kentucky Arts Council, Mountain Association for Community Economic Development, and the Association for Creative Industries. Her artistic practice in hand-stitched textiles has been honored with numerous awards, including Kentucky's Al Smith Fellowship, national adjudicated and invitational exhibitions, and teaching opportunities at Arrowmont School of Arts and Crafts, John C. Campbell Folk School, Craft Alliance Center of Art + Design, Society of Contemporary Craft, and the Southwest School of Art.