The Landmark Center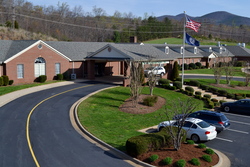 P O Box 459
227 Landmark Drive
Stuart, VA 24171
Phone: 276-694-3050
Fax: 276-694-4650
Contact: Amanda Gray, Marketing Director
Website: www.thelandmarkctr.com

Gracious Assisted-Living. The Welcome Retirement Choice for Older Adults and Peace of Mind for their Loved Ones!

The Landmark Center is the Assisted-Living Facility of the Landmark Group, and is located adjacent to the campus of Blue Ridge Nursing Center . Opened in 1996, The Landmark Center has 75-beds, and you will always have the freedom of lifestyle and care for your wellness. The variety of activities and time spent with friends gives you the peace of mind that comes from knowing that someone is always there.
The Landmark Group is a privately owned management group and "Home Office" for the healthcare operations of the facilities that it manages. After ten years of owning and operating Blue Ridge Nursing Center in Stuart , VA , The Landmark Group expanded their services with the addition of the Landmark Assisted Living Center in 1996, and the acquisition of Highland Ridge Rehab Center in Dublin , Virginia in 2001 thus forming "The Landmark Group, LLC."
It is The Landmark Groups' philosophy "to touch lives and lift spirits through quality compassionate care by showing OUR HEART IS IN IT." We invite you to visit our facilities or contact our admission directors for additional service information.




· Assisted Living
· Greenhouse
· Nursing
· Nursing Home

· Retirement Facility